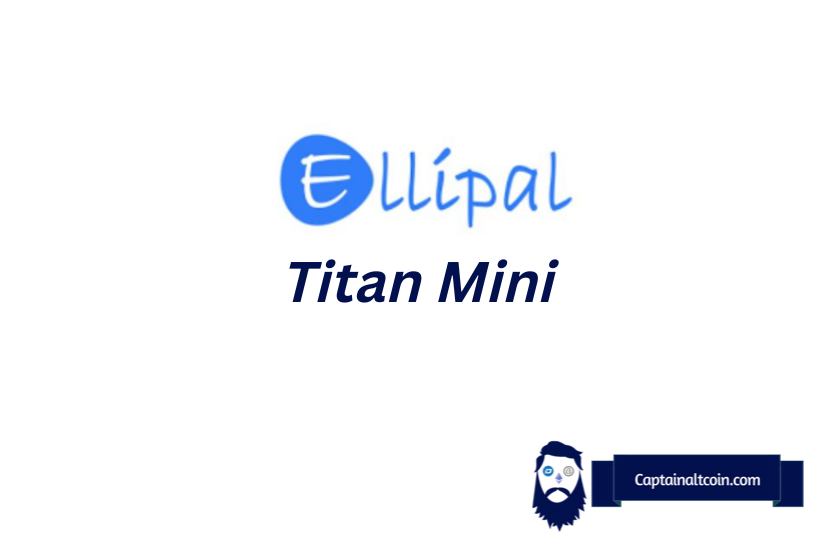 Ellipal Titan Mini Review – Pros & Cons, Price, Supported Coins
Ellipal Titan Mini has a sturdy build and supports over 40 different blockchains and 10,000+ coins
The metal case of the device uses air-gap technology, which allows it to be isolated physically, electronically, and electromagnetically
Ability to remain completely isolated from the internet
What is the Ellipal Titan Mini wallet?
---
Ellipal Titan Mini Cold Wallet is a portable, and air-gapped hardware wallet made entirely out of metal that comes with a large screen and supports NFTs and over 10,000 cryptocurrencies. 
The Ellipal cold wallet was designed for offline use and had several interesting features, such as offline firmware updates using a micro SD card or alternate accounts that conceal your password in case of threats. 
ELLIPAL Titan Mini costs $79 and currently ships to 70+ countries. ELLIPAL is a company founded in 2018 in Hong Kong that specializes in manufacturing cold wallets. Its first wallet product was named "ELLIPAL" and was launched in 2018, followed by the ELLIPAL Titan Wallet. 
Ellipal Titan uses QR code technology to connect your wallet to the Ellipal mobile app. That means that your cryptocurrency seed phrases will be kept safer than with the devices that use bluetooth for data transfer. QR codes are also verifiable, unlike data transfers that use Bluetooth or USB.
Main features
---
Ellipal Titan Mini is a fully air-gapped cold wallet that uses QR codes to transfer data. It is a full metal and dust-free device that never connects to the internet, keeping your wallet password safer than the alternatives available on the market. In addition, Ellipal Titan Mini has a large and easy-to-use screen and offers offline firmware updates through an SD card.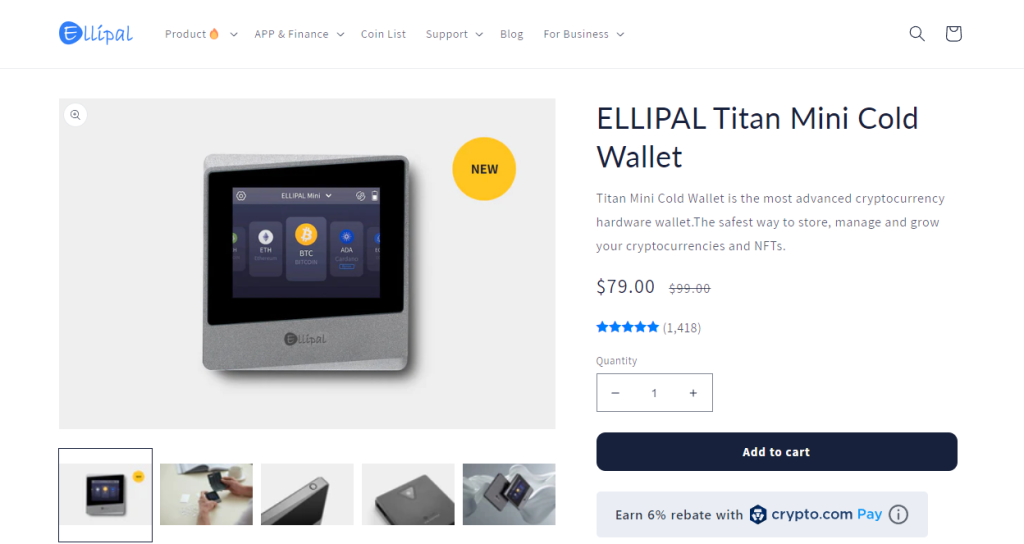 The Ellipal Titan Mini package contains the wallet, a magnetic adapter, USB-C to USB-A cable, documentation, and two cards for recovering seeds. The USB cord works only to charge the Ellipal device without transmitting any data, a feature that increases the security of the device.
The company developed the Ellipal app which works individually as a hot wallet. You pair with ELLIPAL Titan air-gapped cold wallet for maximum security.
Supported coins
---
Ellipal Titan supports over 10,000 cryptocurrency coins and 40+ blockchain networks. You can use the device to store BTC, ETH, SOL, USDT, XRP, BNB, ADA, and more. The Ellipal device supports multiple accounts, and an account usually takes no more than 3 minutes to be created.
Can Ellipal Titan Mini store NFTs?
---
Yes, the Ellipal device can securely store NFTs (non-fungible tokens).
Shipping
---
Ellipal Titan Mini will start shipping to over 70 countries in November 2022, with an estimated delivery time of 12 days, depending on the customer's location. The classic Ellipal Titan gets shipped after two days from when it was ordered and usually arrives within 3 to 5 business days. 
Ellipal Titan vs Ellipal Titan Mini
---
Ellipal Titan is larger than the Titan Mini and has a 3.97 inches LCD screen, while the mini version comes with a 2.4 inches LCD. Battery-wise, the two devices have different specs, with 1400 mAh for Ellipal Titan and 609 mAh for the Mini. Ellipal Titan also comes at double the cost of the mini version ($139 Vs. $79).
Ellipal Titan Mini vs Ledger Nano X
---
Ledger Nano X model is one of the world's best-sold hardware wallets. It comes in the form of a USB stick with two operating buttons and a small LED screen. A downside of Ledger compared to Ellipal is that it connects to the "Ledger Live APP" through a cable or Bluetooth, which represents a security risk. 
Ledger Nano X requires users to download a specific app for each coin, a less desirable alternative to the Ellipal Titan Mini since it can quickly use up memory. 
FAQs
---
Can ELLIPAL Titan be trusted❓
Yes. ELLIPAL Titan is a cold wallet that never connects to the internet and uses secure QR codes for transactions, which keeps your cryptocurrencies safe from hackers. The QR Code technology used to transmit data is verifiable, a unique feature that is not common to other popular cold hardware wallets.
Can ELLIPAL get hacked❓
No. Since Ellipal Titan uses QR code technology to connect to the mobile or computer app, it is unlikely that someone will ever be able to hack it. However, other similar devices, such as Ledge or Trezor, use USB-C and Bluetooth connections that are highly prone to hacking threats.
Is ELLIPAL made in China❓
Yes. Both ELLIPAL devices and the ELLIPAL App (a Defi wallet) are manufactured in China.
Is staking on ELLIPAL safe❓
Yes, staking coins on ELLIPAL is perfectly safe. It allows users to stake coins, namely Cosmos, Tezos, Polkadot, Kusama, and Cardano. ELLIPAL's documentation covers all the topics related to staking on the device.
How many coins can ELLIPAL hold❓
ELLIPAL supports over 10,000 different coins and tokens and can theoretically store an unlimited number of tokens on the cold wallet.
Can I use ELLIPAL with Coinbase❓
Yes, the ELLIPAL device needs to be connected to the Android/iOS app to be able to send cryptocurrencies to Coinbase or another exchange. To receive cryptocurrencies, users don't need to use ELLIPAL Titan Mini.
Can ELLIPAL hold Nfts❓
Yes. You can use the Ellipal device to securely store and transfer NTFS.
Is the ELLIPAL wallet legit❓
Yes, although ELLIPAL Titan Mini is a newer device that will be shipped starting November 2022, its bigger brother (ELLIPAL Titan) has been on the market since 2018, with a lot of good feedback and reviews from the community. 
Does Ellipal Titan work with iPhone❓
Yes, the Ellipal app wallet is available for both Android and iOS.
Is Ellipal app a hot wallet❓
Yes, Ellipal App works like a hot wallet, allowing users to import recovery phrases and private keys.
PROS
Ellipal Titan Mini has a sturdy build and supports over 40 different blockchains and 10,000+ coins
The metal case of the device uses air-gap technology, which allows it to be isolated physically, electronically, and electromagnetically
Ability to remain completely isolated from the internet
CONS
Ellipal Titan Mini offers limited support for staking cryptocurrency compared to alternatives on the market
Some customers have reported that ellipal.com offers poor customer support, and sometimes responses take a lot of time

CaptainAltcoin's writers and guest post authors may or may not have a vested interest in any of the mentioned projects and businesses. None of the content on CaptainAltcoin is investment advice nor is it a replacement for advice from a certified financial planner. The views expressed in this article are those of the author and do not necessarily reflect the official policy or position of CaptainAltcoin.com