The on-chain analytics firm Santiment has explained why some altcoins could be worth paying closer attention to right now.
These Altcoins Are Observing High Whale Activity Currently
In a new post on X, Santiment has suggested traders pay close attention to the altcoins that are observing a high amount of whale activity. The metric of interest here is the "whale transaction count," which keeps track of the daily total amount of transactions for an asset that is worth at least $100,000 in value.
When the value of this metric is high, it naturally means that the whales are making a large number of transfers right now. Since the scale of these transactions is significant, a large amount of such transfers taking place close to each other can cause noticeable fluctuations in the cryptocurrency's price. Thus, a high amount of whale activity can be an indication that the given asset might be due for some volatility soon.
Now, here are the altcoins Santiment has pointed out that are observing a high whale transaction count currently:
The value of the metric is high for these four altcoins | Source: Santiment on X
It would appear that the whale transaction count has spiked for these four coins recently: Polygon (MATIC), 1inch network (1INCH), Dogelon Mars (ELON), and WOO Network (WOO).
As the indicator doesn't differentiate between buying and selling transactions, it's hard to say what type of volatility, if any, would appear from the activity of these whales. But if history is anything to refer to, a price reversal may have become more probable for these alts now.
In the case of Polygon, for example, whale activity has appeared as the coin has been observing a sharp rally, so these humongous holders may be making these transactions to harvest their profits.
MATIC has observed a sharp uptrend in the last few weeks | Source: MATICUSD on TradingView
In any case, the high whale transaction activity could make these altcoins worth keeping an eye on, as they shouldn't at least show stale price action in the near future.
Alts Are Now Observing Higher Activity Than Bitcoin
Julio Moreno, the CryptoQuant head of research, has also recently discussed the latest alt rally on X, pointing out the developments that have taken place in two metrics in particular.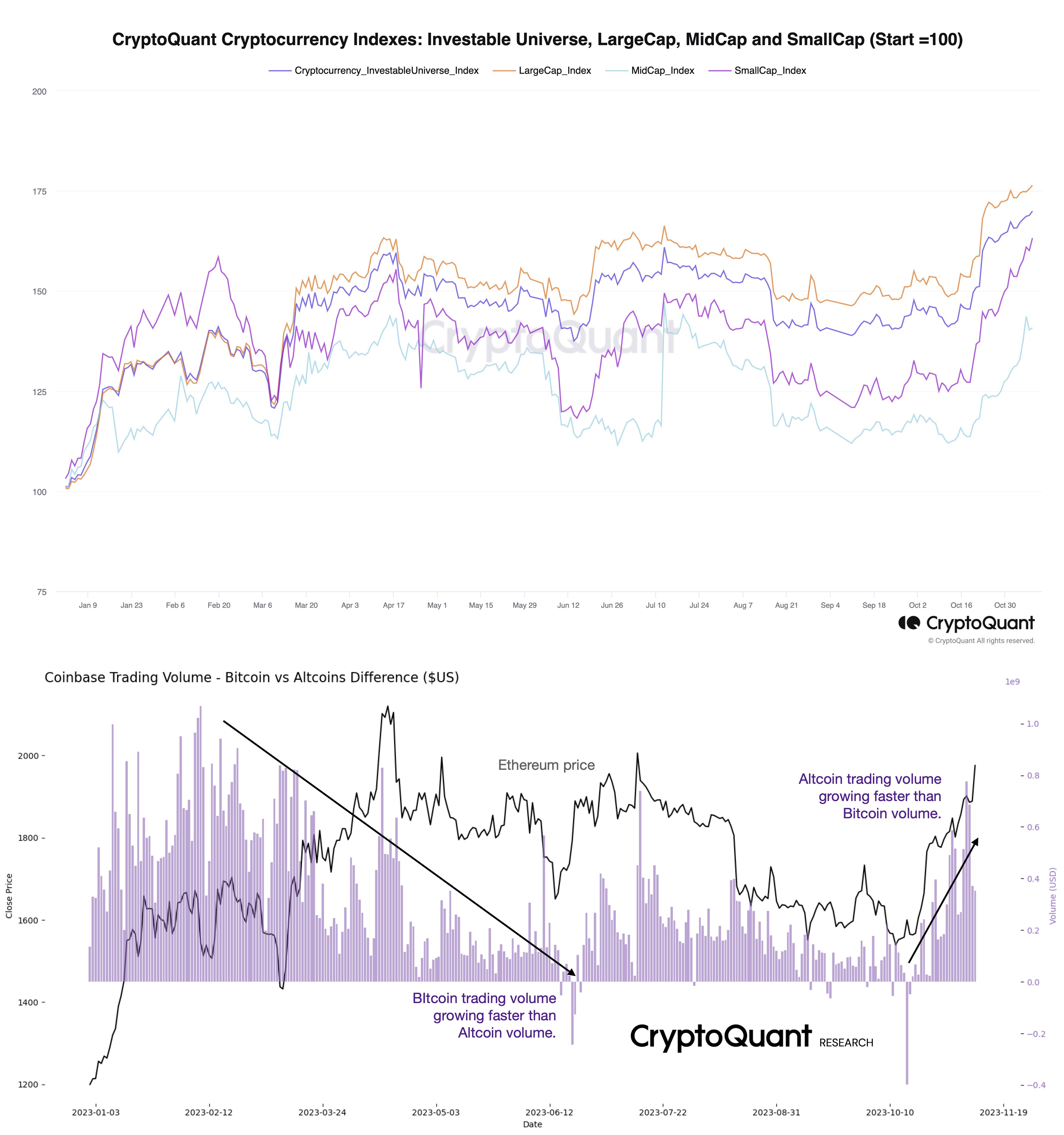 The market cap and trading volume performance of the alts | Source: @jjcmoreno on X
The first chart here displays how the market caps of the different cryptocurrency indexes have performed recently. It would appear that the small cap altcoins have picked up steam recently, as their growth has been sharper than the large cap coins like Bitcoin and Ethereum.
The other graph is for the difference between the trading volumes of Bitcoin and the alts on the Coinbase exchange. This indicator has been growing inside the positive region recently, suggesting that not only have the altcoins been seeing more activity, but also the gap is only widening between them and BTC.
Featured image from Shutterstock.com, charts from TradingView.com, CryptoQuant.com, Santiment.net